Your annual service is due this Men's Health Week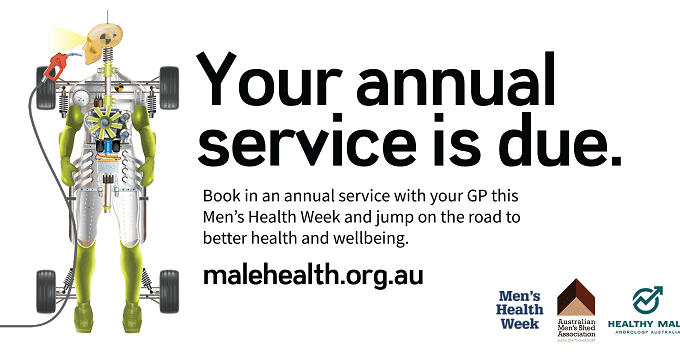 Your annual service is due this Men's Health Week.
"There's still a great deal of stigma around many men's health issues. Men's Health Week is an opportunity for us to encourage men to take notice and play an active part in maintaining good health and wellbeing," said AMSA Executive Officer David Helmers.
"Spanner in the Works? has been a hugely successful tool for us in engaging men in our message," said Mr Helmers.
Spanner in the Works? provides men with an accessible platform to understand the importance of maintaining a proactive approach to their health – likening the human body to a vehicle or piece of machinery.
Most blokes understand the consequences of poor vehicle maintenance and are usually quite particular about maintaining their machinery. However when it comes to looking after their most important piece of machinery—themselves—men often overlook preventative maintenance and an annual service.
The male health initiative was launched by AMSA to provide Men's Shed members with a non-threatening platform advocating for a proactive approach to positive health and wellbeing, as well as an annual check-up with a local GP.
This Men's Health Week, AMSA is launching a refurbished toolkit in collaboration with men's health organisation Healthy Male (previously Andrology Australia).
"With the help of our partner CRC Industries, we've worked with Healthy Male to refurbish and expand the reach of Spanner in the Works? by developing the health promotion toolkit for health professionals to effectively use the tool well beyond Men's Sheds," said Mr Helmers.
The refurbished Spanner in the Works? program will officially launch at the Darwin leg of the Supercars Championship on Friday 14 June. Media are invited to contact AMSA for more information.